3D Modeling and Finite Element Analysis (FEA):
Foresight Engineering's state-of-the-art capabilities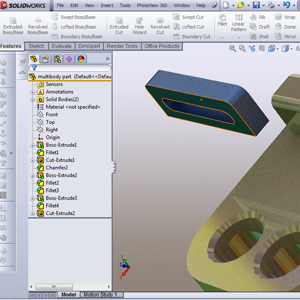 Foresight Engineering has always been a leader in 3D drafting and design. For the past 25+ years we have leveraged 3D models to provide accurate designs and drawings that match real world geometry. Today this approach has been adopted by industry leaders as Building-Information-Management (BIM). BIM allows a 3D model to incorporate every component of the real-world design. Through our 3D modeling capabilities we can "build" the project step-by-step allowing us to find conflicts and flaws long before construction even begins. This saves both time and money for all involved and allows the client to receive the highest quality design.
"Traditional" 2D drafting is inefficient and prone to errors as each view of a building or component has to be redrawn when revisions are made. With 3D models, changes are reflected in the entire drawing instantly. Further, isometric views and realistically detailed drawings allow for less errors in construction and fabrication. Our clients have regularly credited the success of project and ease of construction on our 3D drafting and design approach.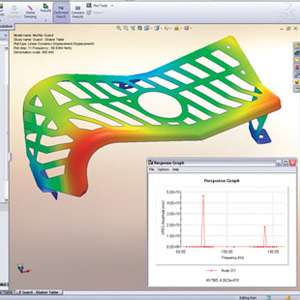 In addition, 3D models allows us to perform some designs that are impossible by "traditional" 2D methods. Complex pipe routing, extremely tight tolerances, complex geometry, and uncommon design-build approaches are all possible with 3D modeling.
Solidworks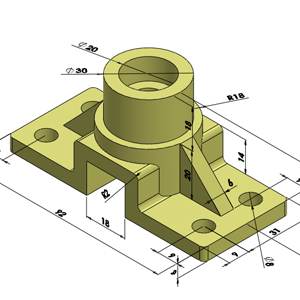 We're proud to announce that we have invested in the state-of-the-art software, Solidworks. With Solidworks we now can provide advanced manufacturing and mechanical engineering drafting and design. Solidworks is a standard in the mechanical engineering field as the premier drafting and design program for mechanical, manufacturing, industrial, and commercial engineering.
With Solidworks we are able to work directly with manufacturers and fabricators by "sharing" the 3D model. Rather than drafting 2D drawings from a 3D model we can now submit an stand-alone 3D model that allows the part to be fabricated with the utmost in efficiency and precision.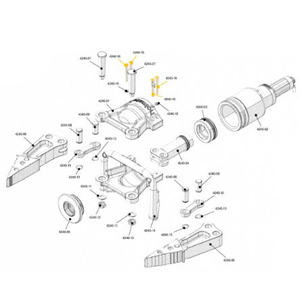 FEA Method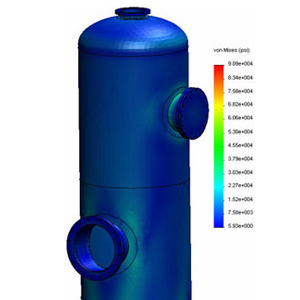 Finite Element Analysis is an advanced engineering matrix analysis method where loads and stresses are evaluated from the 3D model directly. Extreme precision can be obtained when using FEA resulting in the most efficient design.
FEA allows detailed visualization of where structures bend or twist, and indicates the distribution of stresses and displacements. FEA software provides a wide range of simulation options for controlling the complexity of both modeling and analysis of a system. FEA allows entire designs to be constructed, refined, and optimized before the design is manufactured.
In summary, benefits of FEM include increased accuracy, enhanced design and better insight into critical design parameters, virtual prototyping, a faster and less expensive design cycle, increased productivity, and increased revenue. Many modern engineering designs are only possible with FEA methods and Foresight Engineering is proud to offer these services.
Our 3D Design and Finite Element Analysis (FEA) Services Include:
3D modeling and rendering
2D drawings generated from 3D models
Drafting Standards: ANSI, ISO, DIN, JIS, BSI, GOST, GB
Manual and automated dimensioning and tolerancing
Automatic bill of materials (BOM), exploded views, and parts lists
3D walk-through/fly-through animation
Animations and visualization of final design
Photo quality images and animations
Collision and interference detection
Import/export over 30 CAD formats
Print directly to 3D printers: AMF and 3MF formats
Convert 3D solid parts to sheet metal
Motion analysis; kinematic and dynamic analysis
Structural part and assembly analysis
Advanced Finite Element Analysis (FEA) software
Structural loads, temperature loading, and forced displacement
Calculation of stress, strain, displacement, and factor of safety
Fatigue analysis; analysis of the life expectancy of structure under repeated loading
Vibration, harmonic analysis, and frequency analysis
Buckling and collapse simulation
Drop test simulation
Pressure vessel design simulation
Non-linear FEA design (extremely high-end)
Post-yielding (plastic) design
Post-buckling strength design
Plastic and rubber material design
Dynamic loading, modal time history analysis
Composite components simulation